Campus News
Welcome to Campus News!
This new section will feature campus snapshots of our community, students in action, and campus happenings. In general, the features will provide you with a glimpse into campus life at Nueva. We hope you enjoy this opportunity to see what's happening today at Nueva.
Should you have any questions or comments or if you have an idea or photo for consideration to be featured here, please email your submission with a description of the photo and how it represents the Nueva experience to: nuevanotes@nuevaschool.org.
Nueva Commemorates The Great War
On Tuesday, November 11, Grades 7 and 8 commemorated Armistice Day and The Great War, which started one hundred years ago. Thanks to a diligent group of engaged historians — students and teachers from Nueva's Upper and Middle Schools — eight sessions were offered on a variety of topics related to "the war to end all wars."
Students met in the library and, after a brief introduction and reading from Osbert Sitwell's poem The Next War, shared a moment of silence at 11:11 am, the time the armistice ended the fighting on November 11, 1918. They then broke into groups to attend mini-lessons, whose activities ranged from watching film of actual WWI battles, a close reading of Hemingway's Farewell to Arms, and learning about early 20th century inventions such as portable X-rays and tanks. See a full list of lecture abstracts here
Teacher Aron Walker (pictured above taught a lesson titled "The Most Important Chemical Reaction of All Time." In the class, he and the students explored the chemistry of ammonia synthesis and how this reaction made possible the modern world. They also examined the mechanism and implications of chemical weapons and the ethics of doing science for your country in times of war.
In this photo, students Charlie, Toby, and Robby lecture on the inventions of WWI. They explored tanks, airplanes, portable X-ray machines, and other technologies that were used behind the lines of battle.
Grade 9 student Lucy taught a lesson on changes in the visual arts in the early 20th century and how they connect to historical events. She engaged the Middle School students in a discussion about a few Modernist paintings, comparing them to works of earlier art movements, specifically focusing on German expressionism (Street, Dresden by Ernst Ludwig Kirchner).
This activity, marking the significance of Veterans Day, grew out of the interest of teachers and students alike, who came together across campuses to delve into topics that illustrate the impact that the Great War had on the world.
Nueva Hosts Doshisha Chancellor
Last week, Nueva hosted a very special guest from longtime partner, Doshisha Schools in Japan. The guest was none other than Chancellor Minoru Oya, who oversees the 70,000-student Doshisha school system. The Chancellor, who came to the United States for the sole purpose of visiting Nueva, listened to student music performances, ate lunch with alumni, met with teachers, and held a Q and A session entirely in Japanese with students who had all previously visited Japan as part of the Nueva/Doshisha middle school exchange, the longest overseas program at Nueva.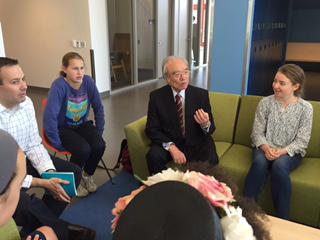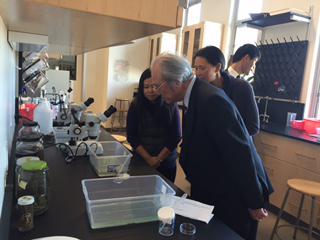 Over the 16 years of the program's existence, more than 300 Nueva students have visited Japan, with countless more serving as hosts for the hundreds of Doshisha students who have studied here at Nueva. The Chancellor's visit to Nueva speaks volumes of the depth and authenticity of this very special Nueva-Doshisha relationship.
Bay Meadows Grand Opening Celebration
October 17, 2014
It was a beautiful day for a celebration. On Saturday, October 11, 786 members of the Nueva community gathered together to officially mark the opening of the new Bay Meadows campus.
The event represented the realization of a long-held dream at Nueva to have a school that extended beyond 8th grade and into high school. Now with grades 9 and 10 occupying the San Mateo campus, and grades 11 and 12 to be added over the next two years, that dream is a reality.
Students, parents, grandparents, trustees, alumni, and friends played basketball and scaled the climbing wall in the gymnasium, listened to jazz music performed by students in the West Courtyard, and heard State Senator Jerry Hill praise Nueva for its most recent accomplishment and present a proclamation to Head of School Diane Rosenberg. Nueva faculty led mini academic sessions on topics as diverse as science rapping and learning Mandarin.
You can read more about the new Bay Meadows Upper School campus in the San Mateo Daily Journal and the San Jose Mercury News or read the Upper School FAQ on the Nueva website.
Cross-Country Takes Off at Nueva
At Nueva, students individualize their learning experience in many ways. While that takes the shape of passion projects and student recitals in the classroom, students on Nueva's middle and upper school cross-country teams have taken to the trails to explore the limits of their athleticism on foot, challenging themselves as individuals, and finding success as a team along the way.
"Distance running can be an oasis for anyone, but especially the highly cerebral. It's a long term, process-oriented, compete-against-yourself passion that is among the hardest forms of exercise," says Nueva middle school cross-country head coach and physical education teacher, Zubin Mobedshahi.
Runners compete individually in grade-level races, using personal performance as a metric to evaluate progress. While this approach gives students the freedom to take leadership of their own training, Nueva's cross-country teams travel, train, warm up, cheer, and celebrate together.
"The energy of the competitions is incredible," says middle school coach Carolyn Gray. "We train hard on campus, but when everyone shows up to the meets the kids push each other hard, and not just their teammates, but runners on the other teams, too."
The expansion of Nueva onto a second campus at Bay Meadows (which officially opened its doors to students earlier this year) now means that students have the resources, responsibilities, confidence, and expectations of an established PreK-12 athletics department. Whereas last year, the girls' JV team did not have the numbers to officially score, in the inaugural fall season at the new campus, the Upper School fielded both a JV boys' and girls' team.
With such participation, the middle and upper school cross-country teams now have enough runners to compete in the West Bay Athletic League (WBAL), which comprises schools from around the Bay Area, many of which known for athletics.
"The WBAL is very competitive. We are up against dedicated teams that train hard," says Upper School Athletic Director Amrit Chima. In the Middle School, that starts with building a platform understanding of the sport. Pre-warm-up classroom discussions of relevant topics — like how the body turns food into the ATP needed by muscle cells — are not rare. In the Upper School, pre-season summer workouts in August and September developed into obligatory training regiments specifically tailored to the characteristics of upcoming courses. "It's okay to want to win…to work hard, focus, come together as a team, and go out there with the confidence to do so," says Chima.
Training hard, learning, and growing the confidence to want — and expect — to win is exactly what Nueva's cross-country runners have done.
Nueva's teams had strong finishes all season long, but in their first official WBAL meet, the Upper School's new JV girls' cross-country team finished 1st, 2nd, and 3rd overall, with every runner on the team placing inside the top 25. As one parent said, "We literally went from not having a team, to being one of the most competitive teams in the league, all within a year… I have seen [my daughter] get stronger physically and mentally. She is dedicated and loves being part of a wonderful group of kids."
The middle school WBAL finals were on Tuesday, and Nueva's boys' grade 4/5 team achieved the same outcome, taking first place overall with three runners finishing in the top 10. A nueva fifth grader came in 4th in the girls' grade 4/5 race, and a sixth grader placed 6th of 76 in the girls' grade 6 race.
While such success on the podium is always a welcome result of the hard work, focus, and dedication that Nueva cross-country emphasizes, ultimately the sport is about personal challenge. "It's about being yourself and learning to keep going when you want to give up. We have good coaches who know how to push you to improve because even if you get a bad time, you can always better it," says one fifth grader.
While the Middle School has wrapped up its season, the upper school JV teams still have the WBAL finals on November 7. Both teams have seen dramatic improvement throughout the season in all of their runners, but have they put in enough to take home a high school JV title?
Ask the upper school team after they get back from a grueling hill climb, or the fourth grader stepping up to race against 40 fifth graders. Ask the eighth grade girls entering the race with more than 110 athletes from Sacred Heart, Menlo, and Priory.
They already have.
Nueva Cup Raises Funds for Athletics
On October 3, 49 participants, including six students and three teachers, came out to Green Hills Country Club in Millbrae for the seventh annual Nueva Cup golf tournament.
"The event strikes a great blend of community building and fund raising," says Jill Thomsen, who organized the event with her husband Norm. "Golfers represented a wide array of members of the Nueva Community—parents from all grades, alumni, grandparents, trustees, teachers and students."
The weather, Nueva camaraderie, and spirits all shone bright as players and spectators made their way through the fabulous course at Green Hills, raising over $8,000 through tee sponsorships, mulligan sales, raffle tickets, and player registrations.
"We are building a competitive athletics program and revenue from fundraisers like the Nueva Cup allow us to acquire the personnel, equipment, and facilities necesary to deliver the best program to our students," says Upper School Athletics Director Amrit Chima. Indeed, the Nueva Cup is a major event for Nueva athletics, having raised over $56,000 since 2007.
Congratulations to the Ken Sigel, Jim Reese, Nueva seventh grader Max Lee, and David Lee, whose team shot the lowest score of the day. Nueva would like to thank all who attended, sponsored a tee, or donated raffle items, and to extend a special thank you to Norm and Jill Thomsen for organizing this spectacular event.